Four New Tests Added to CLIA Waived List: Effective Date Set for January 1, 2007


On January 1, 2007, Medicare contractors will implement new waived tests approved by the U.S. Food and Drug Administration (FDA) under the Clinical Laboratory Improvement Amendments (CLIA) of 1988. Note that the effective dates for each code, as shown in the table below, vary. Also note that contractors won't search their files to either retract payment or retroactively pay claims but will adjust claims if you bring it to their attention.
As always, the standard rules apply for billing these codes.
The CLIA regulations require a facility to be appropriately certified for each test performed.
To ensure that Medicare & Medicaid only pay for tests categorized as waived complexity under CLIA in facilities with a certificate of waiver, laboratory claims are currently edited at the CLIA certificate level.
Modifier QW must be appended to the new codes to be recognized as a waived test. However, modifier QW is not required on the following tests to be recognized as waived: 81002, 81025, 82270, 82272, 82962, 83026, 84830, 85013, and 85651.
Information Source: Transmittal 1062 (September 22, 2006), which includes the new tests plus a comprehensive list of all CLIA-waived tests, can be found at http://www.cms.hhs.gov/transmittals/downloads/R1062CP.pdf.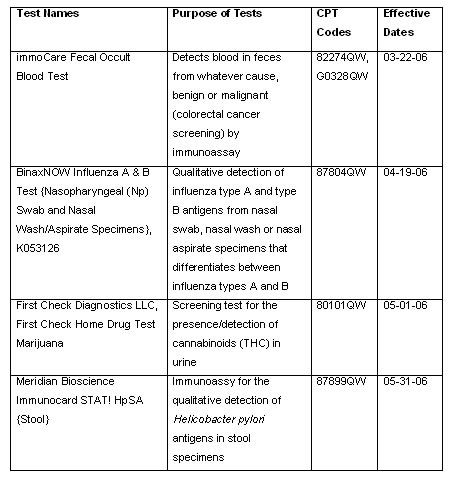 ---
Head/Neck Angiography and Interventions Audio Seminar
October 25, 2006 - click here