5 Minutes with... Barbara Good, CMC, CMCO, CMOM


Certified Medical Coder
Certified Medical Office Manager
Certified Medical Compliance Officer
http://www.pmimd.com/
BC Advantage (BCA): How would you describe your experience as a Physician Practice Advocate?
Barbara Good (BG): I work as the West Virginia State Medical Association's advocate/liaison for physicians and office administration with insurance payors, both government and commercial. I also am a strong advocate for education and provide continuous educational opportunities for physicians and their staffs. I handle the "nuts and bolts" issues, the everyday "hassle factors" for physician practices in order to enable them to better utilize their office resources. I also keep our practices as up to date as possible by sending "blast" emails on any healthcare issues that affect their practices. I am well known for my problem solving that occurs on a daily basis. The Wesgram Online, my online newsletter which is published at least monthly, continues to be widely read.
BCA: What about this particular field interested you and why?
BG: With my diverse background in healthcare and education, this position seems like the perfect "fit." The position was a new position when I was hired, so I have been able to keep adding to it. Some days it gets really crazy for me as a "department of one" and it feels like I should have a full department to handle the issues.
BCA: Could you describe a typical day in your role as a Physician Practice Advocate?
BG: I would love to tell you about a typical day, but rarely are two days alike. That's another reason I love this position. On any given day, I have a number of issues that can be resolved via phone or email. Other situations require visiting the physician's practice to review the billing/coding/medical questions and then decide on a plan of action.
I also attend a number of physician meetings, payor meetings, and association meetings (for example, WV Medical Group Managers Association and Office Managers Association). I work very closely with our Government Affairs Specialist on legislative issues that will affect our West Virginia physicians. I do quite a bit of speaking for groups who want information on various topics.
BCA: As a practice manager, are you responsible for setting up the training needed for coders/billers to complete their ICD-10 training? If not, who is responsible for making sure their staff is completely trained by October 1, 2014?
BG: The WVSMA is working diligently to ensure that our physician practices are ready for the conversion to ICD-10. We have been sending information for over a year and encouraging practices to become as knowledgeable as possible. Through our exclusive partnership with Practice Management Institute, the WVSMA has offered four Certified Medical Coding (CMC) classes (two of them in 2013) in order that more practices could have certified coders in their offices. We also scheduled a "Transitioning to ICD-10" course in September. The interest in this topic was such that we had to hold four classes instead of just one. We plan to continue to host classes and implementation workshops on ICD-10 so that physicians and staff may be trained for the October 14, 2014 implementation date.
BCA: How hard/easy would you say it is to get office staff set up for the transition into ICD-10?
BG: I think that most offices are aware that the change is coming but many are still unsure as to what they must do to be fully ready for the transition. The WVSMA is encouraging coders to become certified so that the transition will be easier. We also are going to provide ICD-10 education throughout 2014. I am encouraging physician practices to work with their EHR vendors to ensure that their systems are ready for the implementation date.
BCA: If it is an easy transition, where do you feel staff should be within the next 6-8 months?
BG: I hope they will be ready, both mentally and system wise, on October 1, 2014.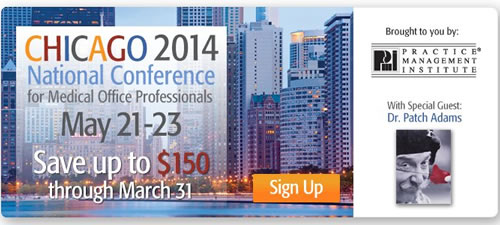 BCA: If it is hard, when would you say is a good time for them to start their training and be ready for the transition?
BG: They should have already begun preparing for the transition. There is still time to get ready but it will require a more intensive preparation. It is also critical that everyone in the medical practice be "on board" on the importance of ICD-10.
BCA: How did your degree prepare you for a career as a Physician Practice advocate?
BG: Both my Education degrees (BA and MA) have helped me, as well as my previous healthcare experience in the pharmaceutical and insurance areas. Each step of my career path has prepared me for the next position. I met many physicians and their practices while working in pharmaceuticals. I am also familiar with how the insurance plans are supposed to work, which helps me to better advocate on behalf of our physicians. Of course, education is a passion of mine, so that has helped as I've planned educational activities/conferences for our physician practices.
BCA: To you, what has been your greatest achievement so far?
BG: This is a hard one to answer. I have been able to assist physicians in some very substantial revenue recoveries, which has been very helpful to their practices. I have been able to help patients obtain services that may have been denied and then the decision reversed. I also have been able to assist many physician practices when they really haven't known where to turn for answers.
BCA: When you have to make an important decision and don't have all the correct facts, how do you handle the situation?
BG: I try to look at both sides of every issue and analyze the potential outcome. In this business, you can't make a decision without a lot of research and investigation.
BCA: What kind of advice can you give our readers who are looking to pursue a career in this particular field?
BG: My best advice would be to always remember that "Knowledge Is Power" and the better educated you can be on a topic, the more credible you are. Read constantly, stay up to date on issues, and obtain any certifications and credentials that you can.
BCA: What do you like most/ least about being a Physician Practice Advocate?
BG: I truly can say that I love all aspects of this position. I work with wonderful physicians and their practices. I enjoy my relationships with our payors and have a high respect for all with whom I work. My colleagues and I work together to ensure that we provide the physicians with the most current medical information available as we seek to promote the time honored commitment of the medical profession while improving the quality of life for West Virginians.
BCA: You have won several national awards for your work; which one means the most to you and why?
BG: I would say that the award that has meant the most was the PMI Outstanding National Liaison award that I received in 2012. It's my understanding that this award hadn't been given in a number of years, so it was very special. The award, from PMI, was for "exceptional networking and relationship building abilities," not only in West Virginia, but nationally. I had helped to mentor advocates from other states, encouraging them on the importance of accessibility of education to physicians and staff.
BCA: Is there anything that you would like to add at this time?
BG: I am very fortunate to work for an Executive Director, Senator Evan Jenkins, who understands my passion for excellence and innovation in what I do. He is incredibly supportive and helpful.
What else would you like to know? I can talk all day about advocacy, physician practice, my family, music, and M&M candy-all my favorite things!